LOS03020T2 Black Rhino FORD RAPTOR BAJA REY 1/10TH 4WD DESERT TRUCK
by LOSI
Inventory :

Key Features
Officially Licensed Ford Body Panels and Trim Schemes
Over the top scale details including custom body, 4-link suspension and more.
Dynamite¶© 3800Kv Brushless Power System
Long Travel 4-link Live Rear Axle
Long Travel Independent A-Arm Front Suspension
Easy-Access Motor
Rear-Loading Battery
Sealed Metal-Gear Transmission and Diffs
Coil-over Oil-Filled Shocks
Waterproof Electronics
Bolt-On Body Panels and Detailed Interior
LED Light Bar (Front and Rear)
Aluminum Chassis
Full-Size Spare Tire
Spektrumƒ?½ DX2E Activeƒ?½ Radio System
AVC Traction Control
Needed to Complete
2S or 3S Hardcase LiPo battery with EC3 or IC3 connector
Apprioriate LiPo charger
What's in the Box?
(1) Ford Raptor Baja Rey: 1/10 4WD RTR Desert Truck

(1) Spektrumƒ?½ 6-Channel DSMR¶© AVC Surface Receiver (installed)
(1) Spektrumƒ?½ 9KG 23T Waterproof Servo (installed)
(1) Dynamite¶© Fuzeƒ?½ 130A Sensorless Brushless Waterproof ESC (installed)
(1) Dynamite¶© Fuzeƒ?½ 550 Brushless Motor 3800Kv (installed)

(1) Spektrumƒ?½ DX2E 2.4GHz Transmitter
(4) AA Batteries (for transmitter)
(1) Product Manual
Overview
The Losi¶© Ford Raptor Baja Rey¶© is the most authentic looking Desert Truck on the market with the performance and durability of a race vehicle. Officially licensed, it comes equipped with a Dynamite¶© 3800Kv brushless power system, as well as a solid rear axle, independent front suspension, and roll cage with upright shocks, so you can tear across all types of rocky off-road terrain. And you'll do so with the full-throttle freedom that only AVC¶© technology can provide. Just like the full scale Ford Raptor, the onboard traction control allows you to fly across the desert at speeds in excess of 50mph all while in complete control and completely dialed in. You get an authentic off-road racing experience with injection molded details, light bars and two licensed trim schemes. The Ford Raptor Baja Rey has just raised the bar another level.
Video Overview
¶ÿ
Officially Licensed Ford Trim Schemes
Officially licensed Ford Raptor body panels, licensed Black Rhino Wheels and King Shocks trim schemes bring authentic scale details to the Ford Raptor Baja Rey. These will have racers doing double takes as they take on all comers.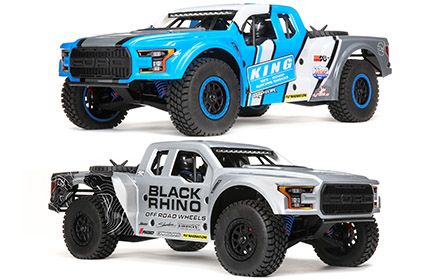 Officially Licensed Ford Body Panels
The Ford Raptor Baja Rey has the look and feel of its real world counterparts in ways you never imagined. The body panels capture the design of everything right down to the last detail.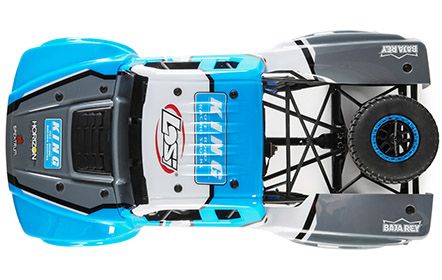 Injection Molded Grill
The look wouldn't be complete without the iconic injection molded grill. Every detail from Ford's instant classic design is represented.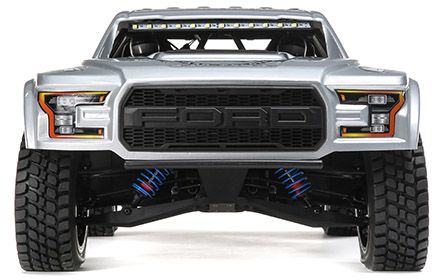 Injection Molded Hood Scoop
The Raptor is known for its hood scoops and you can't miss them on the Ford Raptor Baja Rey. These are the details that make 1:1 enthusiasts go crazy and we've got them featured right here.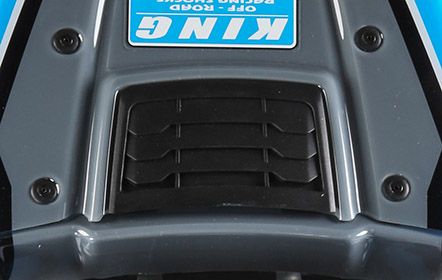 New Front Bumper
Completing the look, the front bumper is a custom design to add that realistic touch.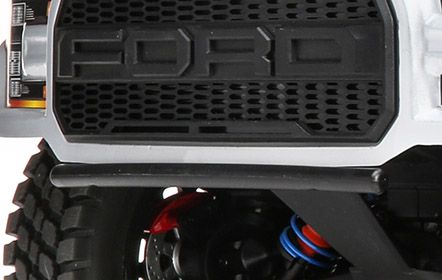 Black Rhino Wheels
Designed for truck and SUV fans, these rugged monsters can take on any terrain. They are flawlessly replicated on the Ford Raptor Baja Rey and are sure to bring a smile to any 1:1 enthusiast.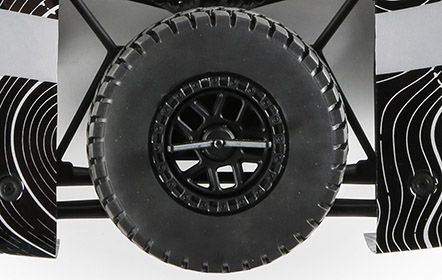 Dynamite¶© 3800Kv Brushless Power System
The truck comes equipped with a Dynamite Fuzeƒ?½ 3800Kv brushless motor and a waterproof 130A ESC. This potent combination can handle 2S or 3S LiPo batteries (sold separately) and will allow you to hurtle across the landscape at speeds of up to 50 mph.
Long Travel 4-link Live Rear Axle
The Ford Raptor Baja Rey rear suspension allows it to soak up massive whoops and bumps with the same realistic handling and movement of a full-scale desert truck. You get better control and a more locked-in feel regardless of the terrain.
Long Travel Independent A-Arm Front Suspension
The front, independent A-Arm suspension has been carefully engineered letting the Ford Raptor Baja Rey rip across the terrain with confidence. By having fully independent suspension, it allows each side to react accordingly providing more control and more precise steering and handling.
Easy-Access Motor
The unique design of the chassis allows the Dynamite Fuzeƒ?½ 3800Kv brushless motor to be accessed without difficulty. Drivers simply remove three screws in the bottom of the chassis and they can then effortlessly make gear changes and service the motor.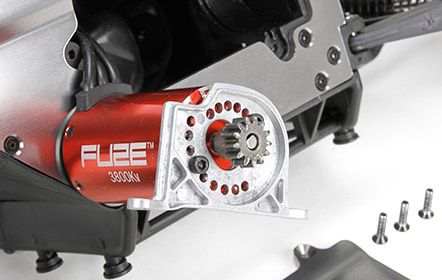 Rear-Loading Battery
The innovative rear-loading battery feature makes it possible to change the battery quickly, easily and without the inconvenience of removing the body.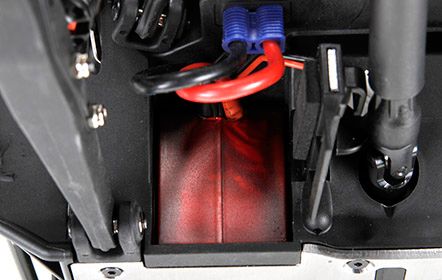 Sealed Metal-Gear Transmission and Diffs
The single-speed transmission, as well as the front and center diffs, are sealed against the elements and engineered to handle the abuse of a high-output brushless motor and punishing terrain. MOD 1 gears further increase the durability of this desert beast. The adjustability of three diffs allows drivers to set their Ford Raptor Baja Rey to handle any track conditions.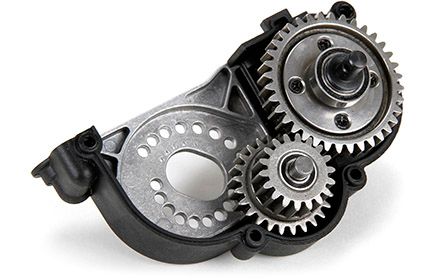 Open Differential
Keeping drivers in control during tight turning, the open differential distributes power to the tires in a way that allows you to hit turns confidently.
Coil-over Oil-Filled Shocks
The long-travel shocks do a fantastic job of soaking up the energy from big bumps and jumps. They also feature threaded shock bodies with adjustment collars so you can fine tune the pre-load settings of the coil-over springs. External bump stops provide plush landings on the hardest surfaces.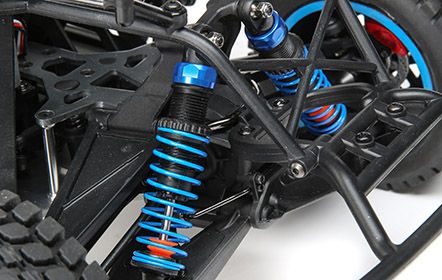 Waterproof Electronics
The Baja Rey desert truck is loaded with waterproof electronics including the receiver, servo and ESC. Everything is sealed against the elements allowing you to splash in the rain, spin in the mud and make tracks in the snow. It's full-throttle freedom to run anytime, rain or shine.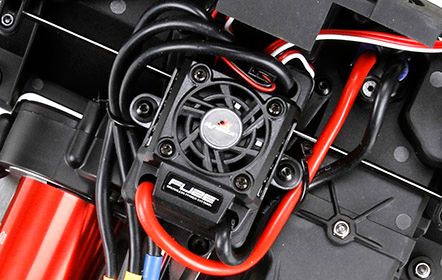 Bolt-On Body Panels and Detailed Interior
The four piece bolt-on body panels give the truck an authentic factory look. Eliminating the need for body posts that spoil the scale look, these panels are polycarbonate for incredible durability and rugged good looks. You also get a molded interior that includes a driver and rider figure, both of which sport racing helmet and harness details.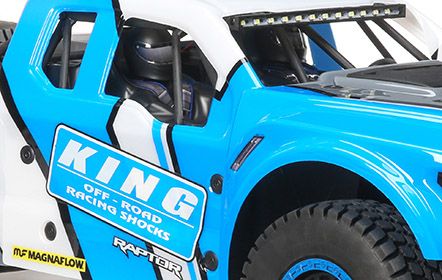 LED Light Bar (Front)
The fun doesn't stop even when the sun goes down with the Ford Raptor Baja Rey. A brilliant LED lights on the integrated light bar cast more than enough illumination for running at night. Plus, the body-mounted LEDs place only a small demand on the battery allowing you to stay out all night!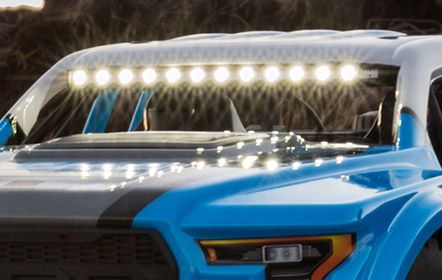 LED Light Bar (Rear)
Just as important as the front lights, the red rear lights allow you to gauge the orientation of the truck even in the darkest night.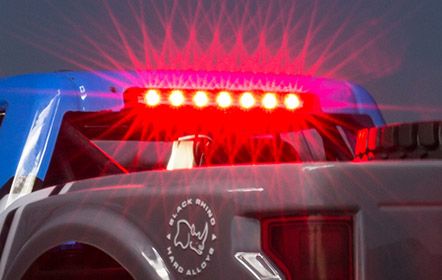 Aluminum Chassis
The foundation of the Baja Rey consists of a 3.5mm, hard-anodized aluminum chassis plate with a 3.5mm upper deck. For added durability and performance it's integrated with a realistic roll cage made of super-tough composite material. Whether you are hitting the whoops, getting huge air, or just wide open, the 3.5mm chassis just keeps asking for more!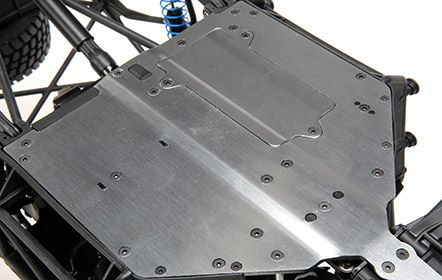 Full-Size Spare Tire
Blow out a tire out on the flats? No worries. The fully-functional spare tire not only adds an authentic scale look to the Ford Raptor Baja Rey, but serves as a true spare. Easily add the tire and get back to tackling the terrain.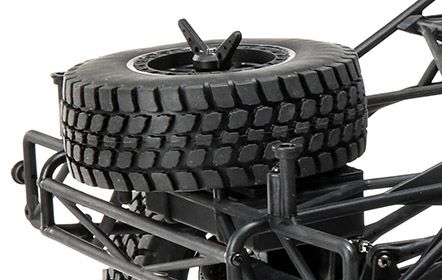 Spektrumƒ?½ DX2E Activeƒ?½ Radio System
The Spektrumƒ?½ DX2e Activeƒ?½ radio system offers advanced features like AVC control, a 3-position throttle limiting switch and travel adjust. It also has an expansion port that lets you add the Spektrum Speedometer or a Bluetooth module and phone mount to utilize the Spektrum Dashboard app.
The Full-Throttle Freedom of AVC¶© Technology
The receiver's built-in AVC¶© (Active Vehicle Control¶©) traction control system works behind the scenes, making hundreds of throttle and steering adjustments per second, so more of the motor's power is translated into ballistic speed and acceleration instead of just flying dirt. The patent-pending AVC system adds a level of performance that simply cannot be found with any vehicle from any manufacturer other than Horizon Hobby. Like traction control in your full-scale vehicle, you can activate or deactivate the system on the fly and adjust the level of stability based on driving conditions. Any RC vehicle can go fast and with AVC you can go faster while maintaining optimum stability in all driving conditions.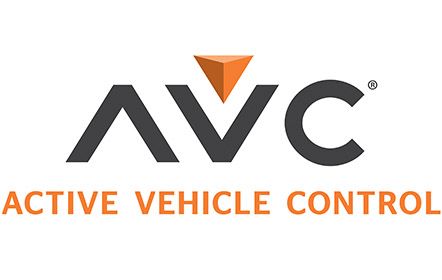 ¶ÿ